New from transcript publishing! Truth and Fiction, Dramatic Disgust and More!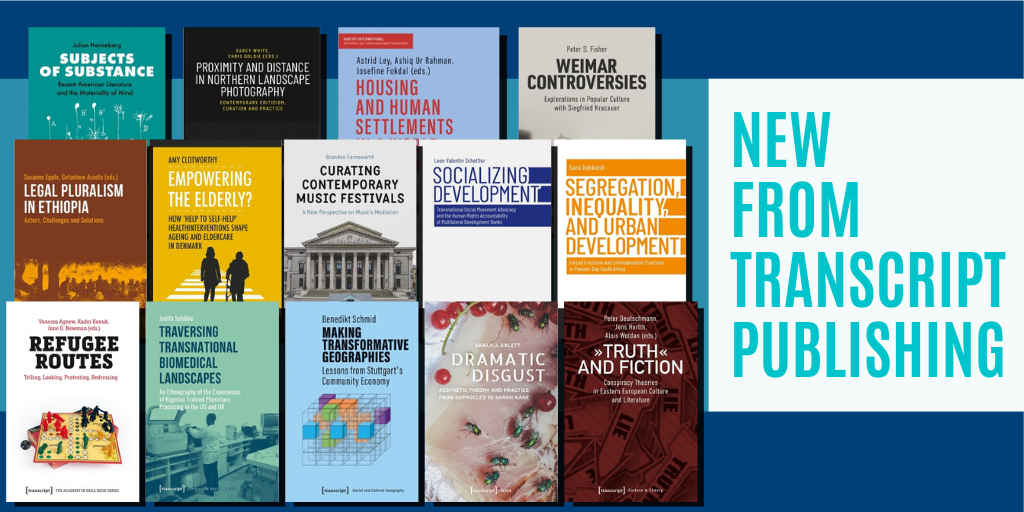 Our weekly list of new books is now available!
Conspiracy Theories in Eastern European Culture and Literature
Edited by Peter Deutschmann, Jens Herlth, and Alois Woldan
Many influential conspiracy theories originated in Eastern Europe. This volume analyzes the history behind this widespread phenomenon as well as its relationship with representations of the present in Eastern European cultures and literatures.
Crossing Borders, Crossing Narratives
Edited by Eva-Sabine Zehelein, Andrea Carosso, and Aida Rosende-Pérez
Scholars of cultural, gender, and media studies, lawyers, sociologists, and historians discuss how today's families cross borders and how cultural texts—sitcoms, films, novels, short stories, and political magazines from Europe and the U.S.—(de-)construct, take part in, and mirror family discourses.
Explorations in Popular Culture with Siegfried Kracauer
Peter S. Fisher
In the Weimar Republic, popular culture was the scene of heated controversies that tested the limits of national cohesion. Peter S. Fisher draws on Siegfried Kracauer's trenchant observations on Weimar's contradictions to let society's underdogs take center stage, pushing the headline makers into the background.
An Ethnography of the Experiences of Nigerian-Trained Physicians Practicing in the US and UK
Judith Schühle
This book explores the experiences of Nigerian-trained physicians who migrated to the U.S. and the UK within the last forty years. By drawing on individual professional life stories, Judith Schühle illuminates how these physicians disconnect from and (re)connect to diverse local social and biomedical contexts.
Actors, Challenges and Solutions
Edited by Susanne Epple and Getachew Assefa
Being a home to more than eighty ethnic groups, Ethiopia has to balance normative diversity with efforts to implement state law across its territory. This volume explores the coexistence of state, customary, and religious legal forums from the perspective of legal practitioners and local justice seekers.
Edited by Astrid Ley, Ashiq Ur Rahman, and Josefine Fokdal
Forewords by Rachel Rolnik and Mohammed El Soufi
This book addresses the challenges of housing and emerging solutions along the lines of three major dynamics: migration, climate change, and neoliberalism. It explores the outcomes of neoliberal "enabling" ideas, responses to extreme climate events with different housing approaches, and how the dynamics of migration reshape urban housing provision.
How "Help to Self-Help" Health Interventions Shape Ageing and Eldercare in Denmark
Amy Clotworthy
Health programs that offer "help to self-help" are meant to empower aging adults to remain independent and self-sufficient at home. Based on ethnographic fieldwork in a Danish municipality, Amy Clotworthy describes how both health professionals and elderly citizens negotiate political discourses about health and aging.
Telling, Looking, Protesting, Redressing
Edited by Vanessa Agnew, Kader Konuk, and Jane O. Newman
Drawing on historical and contemporary examples from Turkey, the Ottoman Empire, Iraq, Syria, the UK, Germany, France, the Balkan Peninsula, the United States, Canada, Australia, and Kenya, this volume draws attention to refugees, asylum seekers, exiles, and forced migrants as individual subjects with memories, hopes, needs, and rights.
Recent American Literature and the Materiality of Mind
Julian Henneberg
Subjects of Substance traces the ways in which materialist conceptions of selfhood inspire and shape recent U.S. literature. It examines the forms, functions, and effects of materialist models of mind in works by authors including Don DeLillo, Kay Redfield Jamison, Siri Hustvedt, Richard Powers, Elyn R. Saks, and David Foster Wallace.
Contemporary Criticism, Curation, and Practice
Edited by Darcy White and Chris Goldie
Northern landscapes are both real places and representations—notions that are bound to collide in landscape photography. In this book, photographers, academics, curators, and archivists examine the interpretation, experience, and appropriation of landscape in northern Europe, Canada, northern England, Scotland, and the Nordic countries.
Aesthetic Theory and Practice from Sophocles to Sarah Kane
Sarah J. Ablett
Aesthetic disgust is a key component of most classic works of drama. This extensive study on dramatic disgust places this sensation among pity and fear as one of the core emotions that can achieve catharsis. Sarah Ablett explains how revulsion allows theater to dig deeper into what it means to be human.
A New Perspective on Music's Mediation
Brandon Farnsworth
Brandon Farnsworth lays out a theory for understanding curatorial practices in contemporary music and how they could be a solution to the field's diminishing social relevance. He focuses on two case studies, the Munich Biennale for New Music Theatre, and the Maerzmusik Festival at the Berliner Festspiele.
Forced Evictions and Criminalisation Practices in Present-Day South Africa
Sara Dehkordi
In present-day South Africa, urban development agendas have inscribed doctrines of desirable and undesirable life in city spaces and the public that uses the space. This book studies the ways in which segregated city spaces, displacement of people from their homes, and criminalization practices are structured and executed.
Lessons from Stuttgart's Community Economy
Benedikt Schmid
Benedikt Schmid considers the development of visions, alternatives, and strategies for a radical transformation beyond growth-based economies. Covering a sample of 24 eco-social organizations, projects, and groupings in the city of Stuttgart, Germany, the study drills down into the social, spatial, and strategic dimensions of transformation.
Transnational Social Movement Advocacy and the Human Rights Accountability of Multilateral Development Banks
Leon Valentin Schettler
As multilateral development banks gained influence in shaping global development, transnational social movements pushed to hold them accountable for their human rights impact. Leon Valentin Schettler presents a novel causal mechanism of movement advocacy, comparing the evolution of human rights standards and complaint mechanisms.