Join Myles Thompson on a Tour of Our AOM 2020 Virtual Booth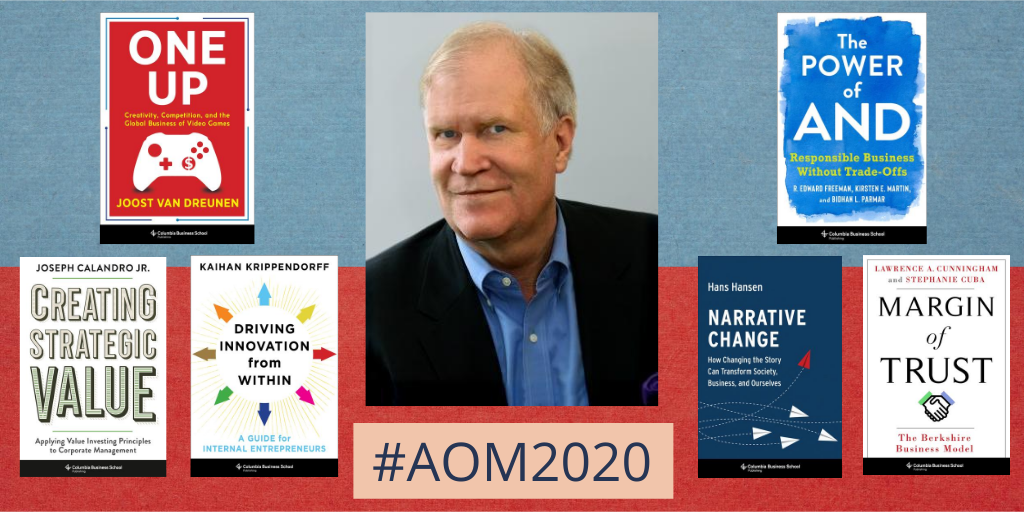 Socially Distanced greetings,
I'm Myles Thompson, the publisher for Columbia Business School Publishing, and because we won't be together in Vancouver, I want to invite you to our Academy of Management virtual book exhibit on the Columbia University Blog.
I am honored to present our recent and forthcoming authors and titles for the Columbia Business School Publishing program. We seek to bridge leading academic thought and professional practice in order to move fields forward in strategy, digital business, innovation, and social enterprise. 
•  •  •  •  •  • 
In The Power of And, R. Edward Freeman, Kristen E. Martin, and Bidhan L. Parmar transform the way we think about the role of business in society.  In this timely contribution, Freeman, the key driver of stakeholder theory, and his colleagues demonstrate the the focus on responsibility and ethics that unites today's most influential ideas and companies. 
In Narrative Change, Hans Hansen unpacks the lessons of the successful fight to change capital punishment in Texas, showing the importance of changing the narrative to change our world.
Written by a leading fixture of New York's educational, cultural, and business elite, No Finish Line is an engaging portrait of what matters most in living a good and successful life.
In Creating Strategic Value, Joseph Calandro Jr. explores how the core ideas and methods of value investing can be profitably applied to corporate strategy and management.
In China's Fintech Explosion, Sara Hsu and Jianjun Li explore the transformative potential of China's financial-technology industry, describing the risks and rewards for participants as well as the impact on consumers. 
One Up provides a pioneering empirical analysis of innovation and strategy in the video game industry to explain how it has evolved to become a dominant force in mainstream entertainment.  
Making Great Strategy resolves these challenges with a straightforward, readily applicable framework. Jesper B. Sørensen and Glenn R. Carroll show that one factor underlies all sustainably successful strategies: a logically coherent argument that connects resources, capabilities, and environmental conditions to desired outcomes. 
For the duration of what would have been the conference weekend, you can use the code AOM20 at checkout from our website for a 20 percent discount on any of our conference titles.