New Book Tuesday! Friend, No Finish Line, and The Life of Imagination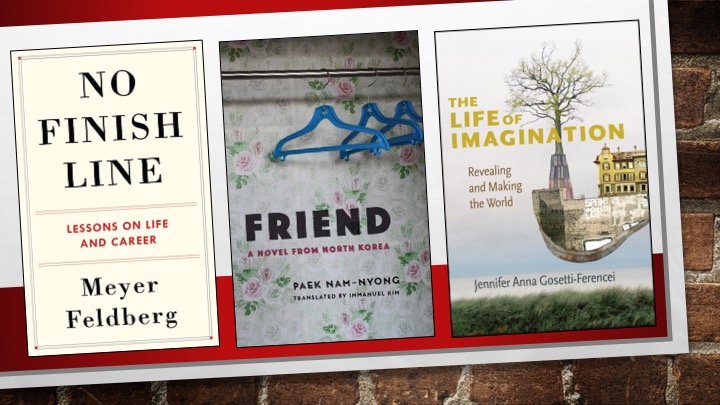 Our weekly list of new books is now available!
A Novel from North Korea
Paek Nam-nyong. Translated by Immanuel Kim
Paek Nam-nyong's Friend is a tale of marital intrigue, abuse, and divorce in North Korea. This groundbreaking translation of one of North Korea's most popular writers offers English-language readers a page-turner full of psychological tension as well as a revealing portrait of a society that is typically seen as closed to the outside world.
Lessons on Life and Career
Meyer Feldberg
No Finish Line is Meyer Feldberg as his friends and colleagues know him. In his telling, Feldberg's story—both his successes and his failures—is a lesson plan for how to lead a worthy personal and professional life.
Revealing and Making the World
Jennifer Anna Gosetti-Ferencei
The Life of Imagination delivers a new conception of imagination that places it at the heart of our engagement with the world—thinking, acting, feeling, making, and being. Jennifer Anna Gosetti-Ferencei reveals imagination's roots in embodied human cognition and its role in shaping our cognitive ecology.