New from Our Distributed Presses!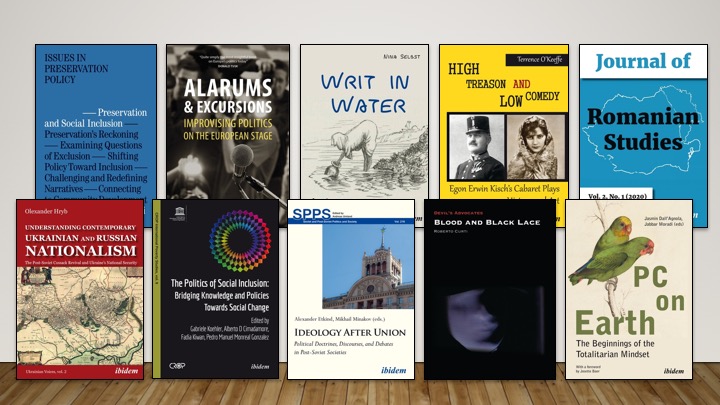 Our weekly list of new books is now available!
Improvising Politics on the European Stage
Luuk van Middelaar. Translated by Liz Waters
Luuk van Middelaar gives us the insider's view of the EU's political metamorphosis. Forced into action by a tidal wave of emergencies, Europe has had to reinvent itself. Van Middelaar contends that this reinvention will succeed only if the EU becomes a truly representative body that allows people's opposition to share the stage.
Mario Bava's Blood and Black Lace (1964) is commonly considered the archetypal giallo. This book examines its main narrative and stylistic aspects, including the groundbreaking prominence of violence and sadism and its use of color and lighting, as well as Bava's irreverent approach to genre and handling of the audience's expectations.
The field of historic preservation is becoming more socially and culturally inclusive, through more diversity in the profession and enhanced community engagement. Bringing together a broad range of practitioners, this book documents historic preservation's progress toward inclusivity and explores further steps to be taken.
Bridging Knowledge and Policies Towards Social Change
Edited by Gabriele Koehler, Alberto D. Cimadamore, Fadia Kiwan, and Pedro Manuel Monreal Gonzalez
This volume looks at concepts and processes of social exclusion and social inclusion. It traces a number of discourses, all of them routed in a relational power analysis, examining them in the context of the UN Agenda for Sustainable Development 2030 with its commitment to "leave no one behind."
Political Doctrines, Discourses, and Debates in Post-Soviet Societies
Edited by Mykhailo Minakov and Alexander Etkind
The recent history of post-Soviet societies is often described in terms of the transition metaphor. This volume describes how the new societies survived this period of regime change, economic crises, internal wars, political drawbacks, and social innovations, and how they are making sense of it.
A Journey of Discovery
Nina Selbst
This book views the world through the rippling, complex lens of water. It reveals how this colorless, tasteless, and odorless substance has made such an impact on our bodies and our souls.
The Post-Soviet Cossack Revival and Ukraine's National Security
Olexander Hryb
This monograph explores the causes and conditions of postcommunist nationalist revivals focusing on the reemergence of Cossack movements in Russia and Ukraine since the late 1980s. The study explores how different theories of nationalism underpinned different national policies and, ultimately, the armed conflict between Russia and Ukraine.
The Beginnings of the Totalitarian Mindset
Edited by Jabbar Moradi and Jasmin Dall'Agnola
The authors of PC on Earth take issue with a fashionable phenomenon emerging from North American campuses: the dangerous consequences of identity politics and pre-emptive conformism. This book is a collection of short stories, satire, philosophical analysis, travel reports, political analysis, and personal experiences.
Egon Erwin Kisch's Cabaret Plays as History and Art
Terrence O'Keeffe
This is the first in-depth treatment in English of E. E. Kisch's work as a playwright. The translations of his two most successful works for the cabaret stages of Germany, Austria, and Czechoslovakia form the basis of discussions that fit them into several intersecting streams: biographical, historical, and cultural.
Volume 2, No. 1 (2020)
Edited by Lavinia Stan, Margaret Beissinger, and Radu Cinpoes
The biannual, peer-reviewed Journal of Romanian Studies, jointly developed by the Society for Romanian Studies and ibidem Press, examines critical issues in Romanian studies, linking work in that field to wider theoretical debates and issues of current relevance and serving as a forum for junior and senior scholars.