Noah Isenberg on Billy Wilder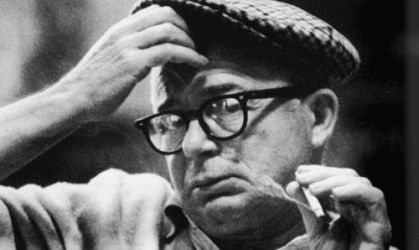 On the tenth anniversary of Billy Wilder's death, Noah Isenberg, author of Weimar Cinema: An Essential Guide to Classic Films of the Era, has written a great review of the director's life and career for the Los Angeles Review of Books.
In the essay entitled "Tales of Buffalo Billy" (Wilder was named after the famous Western hero by his America-infatuated mother), Isenberg recounts Wilder's life from his early days in World War I Vienna to his success as an expatriate director in Hollywood. Along the way, Wilder lived in Berlin, where he got his start in the film industry and where he moved from to come to America, sensing the impending danger of Hitler.
Isenberg offers an appreciation of the many virtues of Wilder's films. He was a director, who did not take himself too seriously, and a man of "uncommon wit and unforgiving sarcasm." As Isenberg points out, one of the most enduring influences on Wilder's work was fellow émigré director Ernst Lubitsch. In the following excerpt, Isenberg discusses how Wilder's admiration of Lubitsch had an impact on his handling of eroticism in film:
Part of what Wilder admired most in Lubitsch was the handling of eroticism in his films, always suggestive rather than explicit. In 1975 Wilder said of Lubitsch, "he could do more with a closed door than most of today's directors can do with an open fly." Of course, Wilder proved to be the master of his own domain in moments such as the scene in Double Indemnity when Phyllis Dietrichson (Barbara Stanwyck) drops by the bachelor pad of hard-boiled insurance man Walter Neff (Fred MacMurray) for an evening quickie; we observe Walter lying on the couch enjoying what appears to be an après l'amour cigarette while Phyllis touches up her makeup. Asked many years later whether the scene was to suggest, in a sly evasion of censorship, that Phyllis and Walter had just copulated, Wilder responded unambiguously: "Of course, and very good sex, or how could she persuade such a man to kill her husband? I learned from Lubitsch that the scene between two lovers the next morning tells you much more about their sexual behavior than actually showing them having sex."